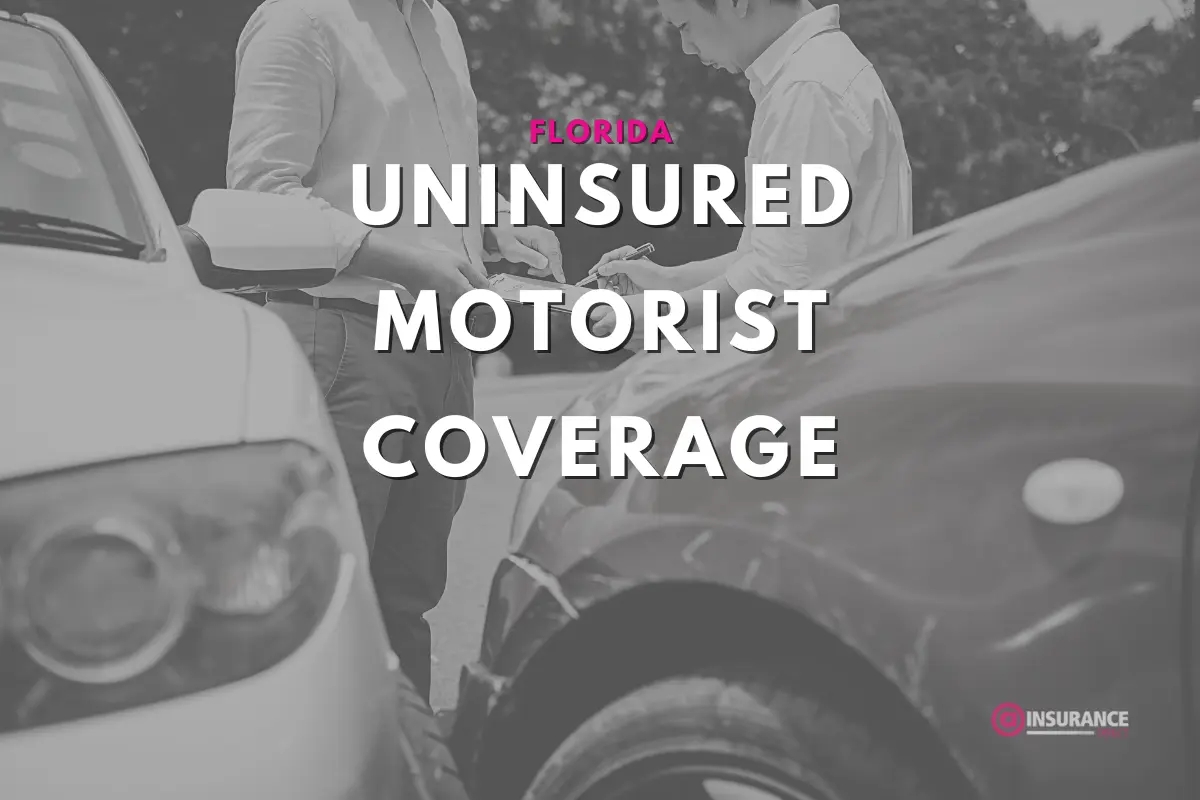 Who Pays For Car Damage in Florida?
Since Florida is a no-fault state, the insurance company will pay out your damages with your property damage liability when you get into an accident in the State of Florida. Depending on who is at fault, either you or the other driver's insurance company will have to pay for the damage. Drivers should opt into uninsured motorist coverage in Florida to protect themselves from uninsured drivers.
Is Florida a No-Fault State?
Yes. Florida is a no-fault state. This essentially means that drivers must carry specific coverages to pay for medical expenses and damage when they get into an accident. This is required regardless of who was at fault in the accident.
Insurance Fact
In Florida, Uninsured Motorist Coverage (UM) is an optional coverage you can add it to your own auto insurance policy. Uninsured Motorist coverage is not required in Florida, as drivers can reject the coverage in writing.
How Does Uninsured Motorist Coverage Work in Florida?
This coverage applies to not only insured drivers but also underinsured drivers whose coverage is not large enough to cover the expenses of the accident. Uninsured motorist coverage (UM) does not cover property damage but rather will cover the following:
Medical Bills – This goes alongside your PIP coverage and will cover additional medical expenses.
Loss of The Future Enjoyment of Life – This is a legal term for the loss of being able to perform activities that had once brought joy to life. This also applies to being able to work, enjoy hobbies, and play sports.
Lost Wages and Disability – Uninsured Motorist coverage will cover the lost wages and disability associated with injuries from the accident.
| Average Cost Per Year | State Minimum Car Insurance | Basic Full Car Insurance | Full Car Insurance |
| --- | --- | --- | --- |
| Florida | $835 | $1,620 | $1,920 |
| Texas | $718 | $1,565 | $1,842 |
| Tennessee | $539 | $1,354 | $1,583 |
What Happens When an Uninsured Driver Hits You in Florida?
The first thing you should do is report the accident to the police, then to your insurance company. Regardless of if they have insurance or not, the police will be able to take an official report of the accident that can be used to get you the most help post-crash. Speaking to your insurance company is also important as they will tell you the information they need from the scene of the crash to process your claim. That's why Insurance Direct is here to find you the best rates in minutes. We do this by shopping multiple carriers all while finding you deals and discounts on car insurance. Speak to an agent today, or get an online quote with us.
If you are an uninsured driver, and get into an accident or are pulled over you will be classified as a high-risk driver. High-risk drivers pay more for car insurance on average and find it more difficult to find insurance. Drivers who have committed a traffic violation, like reckless driving or driving without insurance may be required to get an SR-22 insurance certificate. If you have committed a serious traffic violation while under the influence, you will be required by Florida law to get an FR-44 certificate. Always make sure that you are covered when you are driving to prevent added penalties.
Will Uninsured Motorist Coverage Help When an Uninsured Driver Hits you in Florida?
It is important to always call the police and your insurance company even if a driver has no insurance. This will allow you to file a claim, and to have an official report of the crash.
Uninsured Motorist Coverage vs. Non-Owners Insurance
There are a few distinct differences between uninsured motorist coverage and non-owner insurance. Uninsured motorist coverage protects you from drivers who do not have insurance or are underinsured. Non-owner insurance is different because it covers people who do not own their own vehicle and frequently use cars other than their own. This provides basic coverage for non-car owners.
Start Your Car Insurance Quote
The fast, free, and easy way to shop for Auto Insurance in Florida!