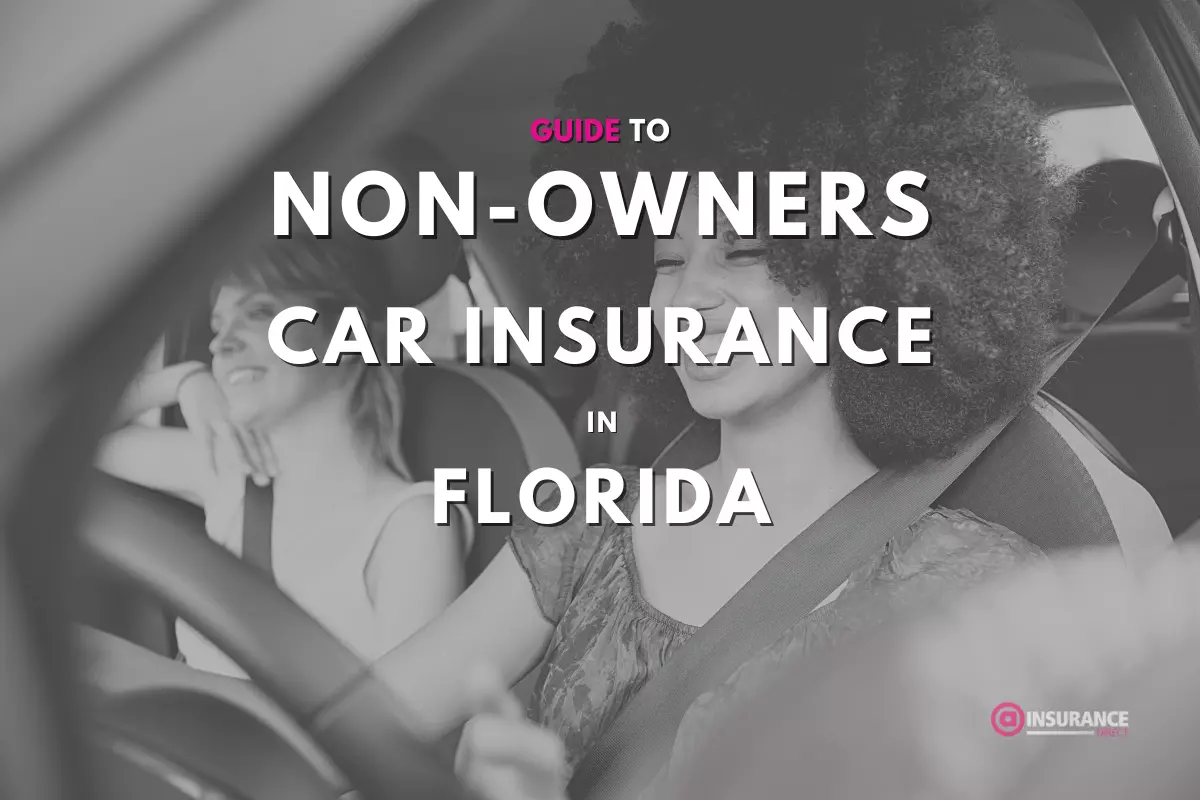 Non-Owner Car Insurance in Florida – Understand When You Need It
There are multiple instances in which a non-owners car insurance policy can benefit drivers in Florida. A non-owners car insurance policy is a cost-efficient way for individuals who don't own a car but need to drive frequently.
Regular Rentals:

This is a perfect solution for individuals who frequently rent vehicles for work or leisure. Most rental agencies offer insurance, but at a higher rate as they are only taking risks. For one-time renters, rental agency insurance is affordable – but to a regular renter, these prices add up and, depending on usage, can be higher than non-owners insurance in the State of Florida. It's important to budget yourself and count expenses to see if a non-owner policy will work best for your rental car commuting.

Borrowing Cars:

If you are frequently borrowing cars, then non-owner liability coverage is a must. There are stipulations with this coverage, such as if you are living with or partners with the owner of the vehicle. In these cases, most insurance companies will not cover accidents as they expect spouses and housemates to be on your policy already. For semi-infrequent borrowing though, this is at the very least – mandatory. It is illegal to drive another car without insurance, but with the permission of the driver, it is allowed as long as both are insured.

Temporarily Without A Vehicle:

If you are without a vehicle and want to stay covered, then transfer your current policy to a non-owners policy in order to stay continuously covered.
Non-Owner SR-22 and FR-44 Insurance in Florida
A huge benefit for SR-22 and FR-44 recipients is that non-owner policies will allow them to save money on their higher-priced insurance rates. SR-22 & FR-44 drivers are considered high-risk drivers in Florida and as a result, are subject to higher rates alongside needing their respective certificates.
If you are in need of FR-44 insurance in Florida, and can't pay the premiums of regular insurance, then consider non-owners insurance. This will allow you to borrow and rent cars when needed and remain covered while doing so.
Can I Drive a Car Without My Name on the Insurance?
The term "permissive use" refers to a driver allowing specific individuals to drive their car, without being on the policy. If accidents occur, then depending on the damages, it'll be covered by your main insurance holder and the driver. Policyholders also have the right to exclude people from being able to drive their cars, so it is important to speak with the policyholder before you drive.
Insurance Fact
Non-owners insurance is cheaper than state minimum insurance policies.
Can I Insure a Car That is Not in My Name?
No, you cannot insure a car that is not in your name in the state of Florida. Although, with a non-owners policy and "permissive use", you can borrow vehicles.
Does Non Owner Insurance Cover Rental Cars?
Yes. Non-owner car insurance in Florida is perfect for regular renters who use rental cars for work or leisure. Non-owners insurance offers coverages that dealership coverage doesn't and fills in gaps in coverage.
How Much is Non-Owner Car Insurance in Florida?
On average, non-owner insurance in Florida will cost around $200-800 a year. This is by default, but with additional discounts, it is possible to pay even less. The reason for the lower prices is that there is no vehicle that is being particularly covered. Get a quote with us today and let us find you additional savings and discounts.
How Much is Non Owners Insurance in Texas?
The average cost of non-owner car insurance in Texas is $584 per year. It is cheaper compared to the average cost of state minimum car insurance in Texas.
| Average Cost Per Year | Florida | Texas | Tennessee |
| --- | --- | --- | --- |
| Non-Owner Car Insurance | $492 | $571 | $381 |
| State Minimum Car Insurance | $835 | $718 | $539 |
| Full Car Insurance | $1,920 | $1,842 | $1583 |
| SR-22 | $1,737 | $1680 | $1321 |
| FR-44 | $2,890 | N/A | N/A |
Does Florida have Non-Owner Car Insurance in Florida?
Yes, Florida offers non-owner car insurance in the form of non-owner liability coverage, which will protect you when borrowing or driving a rented car.
Still Looking for the Best Non Owner Car Insurance Agency in Florida?
At Insurance Direct, we shop multiple carriers for the best non owner auto insurance rate within minutes! Start your quote now.
Start Your Car Insurance Quote
The fast, free, and easy way to shop for Auto Insurance in Florida!